As an ISO certified mechanical test lab you can be certain that we have the infrastructure in place to Identify, prevent, and address issues as they arise in order to maintain high quality standards in testing.
We have well Equipped Inspection & Testing Laboratory for both Destructive & Non Destructive Testing  of Raw materials  & Fasteners to meet various International testing Standards like ASTM ,ISO,JIS, DIN etc…
Non Destructive Testing like: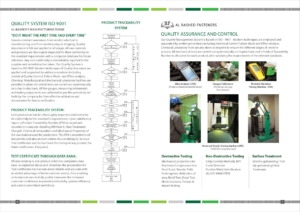 PMI (Positive Material Identification) by Alloy Analyzer
Magnetic Particle Testing (MPI)
Liquid Penetrant Testing (LPT)
Ultrasonic Testing (UT)
Eddy current method.
Coating Thickness (DFT) Test
Temperature Test
Destructive Testing like:
Hardness Testing (Rockwell, Brinell, Vickers)
Tensile Test, Yield strength test,
%Elongation & % Reduction Tests.
Shear Test (single & double)
Charpy Impact Test
Bolt & Nut Proof Load Testing
Compression Load test
Torque Testing
Macro Etch Test, cold upset test
Chemical analysis by Spectromax,
Metallurgical Analysis of Micro Structure.
Digital Profile Projector for analysis and inspection of various critical profiles.
Thread inspection by Master Calibrated Screw Thread Ring and Plug Gauges.
All destructive & non-destructive testing is carried out in house by well qualified and trained inspectors according to the applicable International Testing standards